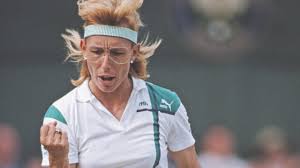 ampliar imagen
3 Wimbledon
17/05/2020
3. Lefties at Wimbledon
The service advantage
But in tennis you don't choose your rivals and you have to be prepared for what comes next. Above all, the service of the left-handed player.
Image copyright Getty Images Image caption One of the great left-handed weapons: the service
When a lefty hits the ball when serving, it spins it in a different way, making it lethal.
By generating this type of rotation, the ball turns and bounces away, demanding as much as possible of the right-handed player who receives and who practically has to leave the field to answer backhand.
"If my opponent is good enough to return the ball, the court is completely open to me to win the point," says Rusedski.
"I can also put the ball behind a right-handed player when he runs desperately back to the center of the court, like I did with (Pete) Sampras in '95."
One of the great players who used this weapon to perfection at Wimbledon was John McEnroe, considered one of the kings of the serve and volley game.
Now, one would think that a right-hander would have the same advantage from the right side of the court but it is not, says Rusedski.
Image copyright Getty Images Image caption Petra Kvitova is the last left-hander to win Wimbledon in 2014
Not only are lefties used to this, tennis rules favor lefties when crucial points are played.
The former British number one explains that the last point of a match is only served on the right side of the court when the score is 40-15; favoring right-handers.
"All the other points that define the game are played on the left side of the court; 40-0, 40-30 and the advantage after equals."
From the first serve to the last, it seems that left-handed players have a natural advantage.
Image caption The Wimbledon Champions of the Open Era.
That was evident in the early decades of the Wimbledon "Open Era".
Seven of the first 17 champions were left-handed: Rod Laver, Jimmy Connors, and John McEnroe among them.
Left-hander Martina Navratilova dominated the women's game for more than a decade, earning a record 9 Wimbledon championships, the last in 1990.
In 1998, three left-handed players were among the top four in the world: Marcelo Ríos from Chile, Petr Korda from the Czech Republic and Greg Rusedski from Great Britain.
In the new millennium, Wimbledon has been won five times by a southpaw: Croatian Goran Ivanisevic, in 2001, Rafael Nadal, in 2008 and 2010, and Petra Kvitova in 2011 and 2014.