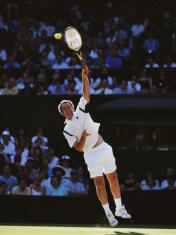 ampliar imagen
1 Wimbledon
27/05/2020
1.Left-handed at Wimbledon

Why left-handed tennis players are more likely to win Wimbledon
Image copyright Getty Images Image caption Australian Rod Laver is the only player to have won all four Grand Slams the same year, twice in a row
Only 10% of the world population is left-handed.
However, since the start of the so-called "Open Era", tennis players playing with the left hand have won 22 of the 96 individual titles from the prestigious Wimbledon tournament: 23%.
Whereas, subjected to equal odds between left-handed and right-handed, the former should have won only nine tournaments.
Do lefties have an advantage on the tennis court and in particular on the Wimbledon grass?
British tennis player Greg Rusedski, former number one in the country - and left-handed - thinks so.